Science for everyone
Part of the same organisation as the Wellcome Sanger Institute, funded by Wellcome, and based on the Wellcome Genome Campus, UK, our programme is focussed on learning, training, and engagement with genomics.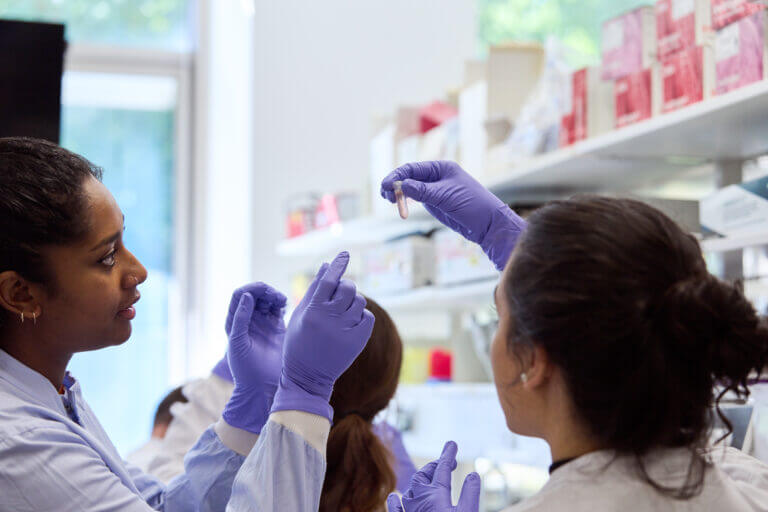 Wellcome Connecting Science's mission is to enable everyone to explore genomic science and its impact on research, health and society.
---
---
Events
Genomics Lite: What is a gene in focus
Exploring the complexity of genes across diverse organisms - and viruses - and helping to reshape what we really mean by a "gene" with guest speaker Dr Zachary Ardern, a Research Fellow at the Wellcome Sanger Institute.
25 January 2024
Online
I am grateful to have had this unique opportunity to have my say on one of society's most complex and significant issues.
Jury member, Citizens Jury project, 2022
The team did a truly fantastic job, I was impressed by their energy and professionalism. Conference delegates said that this year's meeting would be impossible to beat!
Wellcome Connecting Science conference committee member, 2023
Through participating in the Connecting Science Global Training programme, I have managed to forge important networks and collaborations that have proved critical to my own career progression.
Dr Brenda Kwambana-Adams, Senior Research Fellow, University College London
Grateful for conferences that use a hybrid format. Today I got to be at the Mutational Scanning Symposium where I just listened to an amazing keynote lecture.
Wellcome Connecting Science conference delegate, 2023